Designing and delivering a PowerPoint presentation that is both informative and interesting is a challenging task. After sitting through one boring PowerPoint presentation after another, your audience is likely to greet the prospect of yet another slide show with low expectations. Surprise them with an informative presentation that captures their imagination and shares your key messages in a unique and interesting way.
Limit Text
The worst types of PowerPoint presentations are those that contain reams of text on each slide. To make matters worse, people who are guilty of displaying text-rich presentations typically read the content of each slide aloud, leaving the audience bored, frustrated and distinctly uninspired. Brevity is the key here. Limit the amount of text you display to the audience. Include a relevant title for each slide, and list only the important points. Avoid lengthy sentences or paragraphs; instead, use succinct, bulleted lists. Include white space between text to avoid a cluttered slide and ensure the audience's attention is drawn to the key information.
Use Images
Images are far more interesting to your audience than text. Find images that are relevant to your topic and think about what will entertain and interest your target audience. A generic photo of two business professionals shaking hands is hardly inspiring, but a photo of your employees volunteering at a community event will immediately introduce a human element and communicate the right message about your organization. You do not have to include an image on every slide, but several well-placed photographs or graphics can generate interest in your presentation. Focus on the quality of your images, not the quantity.
A great productivity tool that can help you manage and find images and diagrams for a presentation is ShapeChef. ShapeChef fully integrates with the PowerPoint document window and provides a library for you to store frequently used images and download high-quality graphic collections from the vendor's server.
Show, Don't Tell
This adage applies well to PowerPoint presentations. Including a statement about your increased profits in the third quarter is fine, but a bar graph that illustrates that increase is far more effective. Find interesting ways to highlight key data and facts. This will grab the audience's attention and make your message easier to understand.
Supplement, Don't Repeat
Your PowerPoint presentation should supplement your discussion. Do not rely on the slides alone to convey your main message. Instead, use the text and graphics to reinforce your key points. Use the Notes feature on each slide to list discussion points. Simply refer to these notes, which your audience are unable to see, to avoid relying on the text alone to deliver your presentation. Remember to include the questions you intend to ask your audience, as this will engage them and get them involved.
Conclusion
PowerPoint presentations might be standard fare in the corporate world, but that doesn't mean they have to be dull. Think of PowerPoint as an accessory to your presentation as opposed to the platform for it. You want your audience to focus on you and your key points, as opposed to reams of dull words on a slide.
---
Unlike shapes, pictures in PowerPoint don't have a transparency setting. As a workaround you can fill a shape with a picture and then adjust the fill transparency. Here's the step-by-step guide for PowerPoint 2010 and later:
Add a rectangle shape to the slide.
Right-click the rectangle and select Format Shape from the context menu.
Select Fill → Picture or texture fill and click on Insert picture from → File... to choose an image file.
Use the transparency slider to make the picture as transparent as you want.
---
Setting up a PowerPoint slideshow to loop continuously is easy:
Switch to the Slide Show Ribbon tab.
Click on Set Up Slide Show.
Tick the Loop continuously until 'Esc' checkbox.
By default, PowerPoint advances to the next slide only when a mouse click occurs. If you want your slideshow to advance automatically, follow the steps below:
Select all slides in the navigation pane.
Switch to the Transitions tab in the Ribbon.
In the Timing group under Advance Slide tick the checkbox next to After:
Enter the duration you want each slide to display.
---
When asking for assistance with a PowerPoint problem, it's helpful to know what version of Microsoft PowerPoint you are using. In this post I will show you how to easily tell the versions apart and find the exact version numbers. Please note that only PowerPoint for Windows is covered.
PowerPoint 2003
PowerPoint 2003 is the last version to use a traditional menu bar and toolbar (instead of a ribbon). Follow the steps below to find your copy's version number:
Select Help from the menu bar (the last entry).
Click on About Microsoft Office PowerPoint.
The version number is listed at the top of the About window.
PowerPoint 2007
PowerPoint 2007 introduces the Ribbon, a panel at the top of the window that organizes commands into tabs. You can tell PowerPoint 2007 apart from newer versions by the Office Button—a round button with the Office logo at the top left corner of the Ribbon. To to find the exact version number in PowerPoint 2007, follow these steps:
Click on the round Office Button in the top left corner.
Select PowerPoint Options from the menu.
Click on Resources at the bottom of the list.
The version number is listed at the bottom under "about Microsoft Office PowerPoint 2007."
PowerPoint 2010
In PowerPoint 2010, Microsoft replaced the round Office Button with the File tab. You can find the version number as follows:
Click the File tab.
Select Help from the menu.
The version number can be found on the right side below the Office logo.
PowerPoint 2013
Compared to PowerPoint 2010, PowerPoint 2013's user interface is much flatter, matching the design of Windows 8. To look up the exact version number, follow these steps:
Click the File tab.
Select Account from the backstage view.
Click the About PowerPoint button.
The version number is listed at the top of the About dialog (including whether you are using the 32- or 64-bit version of Office).
PowerPoint 2016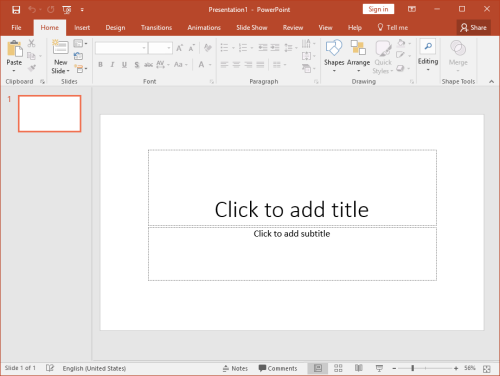 PowerPoint 2016 looks quite similar to PowerPoint 2013, but Ribbon tab names no longer display in all caps. The steps to find the version number are exactly the same as in PowerPoint 2013:
Click the File tab.
Select Account from the backstage view.
Click the About PowerPoint button.
The version number is listed at the top of the About dialog (including whether you are using the 32- or 64-bit version of Office).
PowerPoint Release History
PowerPoint (April 1987): 1.0
PowerPoint (May 1988): 2.0
PowerPoint 3 (May 1992): 3.0
PowerPoint 4 (February 1994): 4.0
PowerPoint 95 (July 1995): 7.0
PowerPoint 97 (January 1997): 8.0
PowerPoint 2000 (June 1999): 9.0
PowerPoint XP (May 2001): 10.0
PowerPoint 2003 (October 2003): 11.0
PowerPoint 2007 (January 2007): 12.0
PowerPoint 2010 (June 2010): 14.0
PowerPoint 2013 (January 2013): 15.0
PowerPoint 2016 (September 2015): 16.0
---
We have just released version 1.3.1 of ShapeChef, which you can download and install from this link. Updating is free for all current users.
Version 1.3.1 mainly solves an issue with ShapeChef not being usable with the latest Office 365 Insider preview version of PowerPoint 2016 on Windows 10. If you don't see any content under ShapeChef Shapes (as in the screenshot below), please install this update to solve the issue.
Here's the full list of changes:
Fixed problem with content of shape library pane not being displayed in latest Office 365 Insider version of PowerPoint.
Fixed minor user interface issues on systems with high-DPI settings.
---
Although PowerPoint doesn't have dedicated functionality for creating countdown timers, it's possible to build a timer using animation and slide transition effects. Instead of boring you with a step-by-step tutorial, I've created an attractive template with a digital clock countdown that you can easily adjust to your needs.
The countdown in the template lasts five minutes, but you can delete slides to shorten it if needed. Download the template file here.