PowerPoint 2010 comes with a great new feature that is surprisingly hard to find: the Combine Shapes tool. You can use this tool to combine existing shapes into new ones using the principles of Boolean geometry (more about that later).
Access to Combine Shapes Tool
By default, the Combine Shapes tool is not available in the PowerPoint 2010 Ribbon. You can add it by following the steps below:
Click the File tab.
Select Options.
Switch to the Customize Ribbon page.
Click New Group to add a custom group to the Home tab.
Click Rename and name the group Shape Tools.
Choose Commands Not in the Ribbon in the top-left drop-down box.
Select Combine Shapes from the list and click Add to add it to the Shape Tools group.
Click Ok to close the options dialog.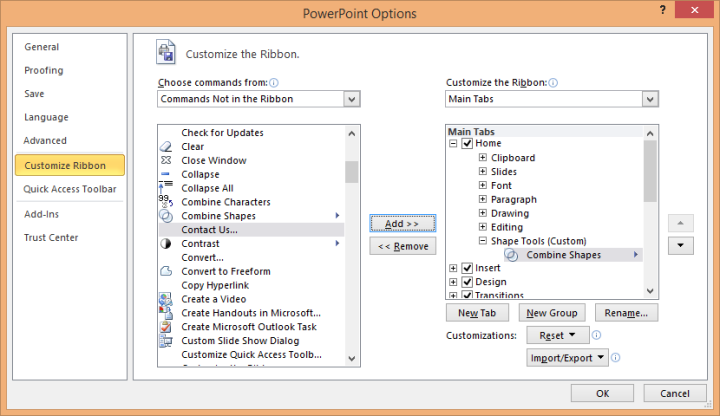 The Combine Shapes command will now appear at the right end of the Home tab.
Using the Tool
To see how Combine Shapes works, add and select two or more overlapping shapes on the slide.
Then click on Combine Shapes and select one of the following options:
Shape Union: Merges the shapes into one shape that covers the entire area of the original objects.

Shape Combine: Merges the shapes, but leaves out the intersection area.

Shape Intersect: Leaves only the intersection where the selected shapes overlap.

Shape Subtract: Cuts out the area of the last selected shapes from the first selected one.

October 6, 2014
By Andreas